The Grumman F-14 Tomcat is one of the most popular subjects aircraft modelers build. During the last decade, we have seen a stunning number of new kits by numerous manufacturers. All of them tried to beat each other to deliver the best Tomcat kit.
The F-14 is possibly the best-known US jet aircraft ever made. Partly because of its role in Holywood's blockbuster called Top Gun. And partly because of its stunning design. It's often claimed the Tomcats, together with the Soviet SU-27 Flankers, are the most beautiful aircraft ever produced. Though I have to admit, I personally prefer the raw mean look of the F-14 predecessor – the F-4 Phantom II.
The F-14 Tomcat is a supersonic, twin-engine, two-seat fighter developed specifically for US NAVY needs. Just like the F-111, the Tomcat was designed with variable-sweep wings. During its career in the NAVY, it was used as an interceptor, air superiority, and multirole fighter.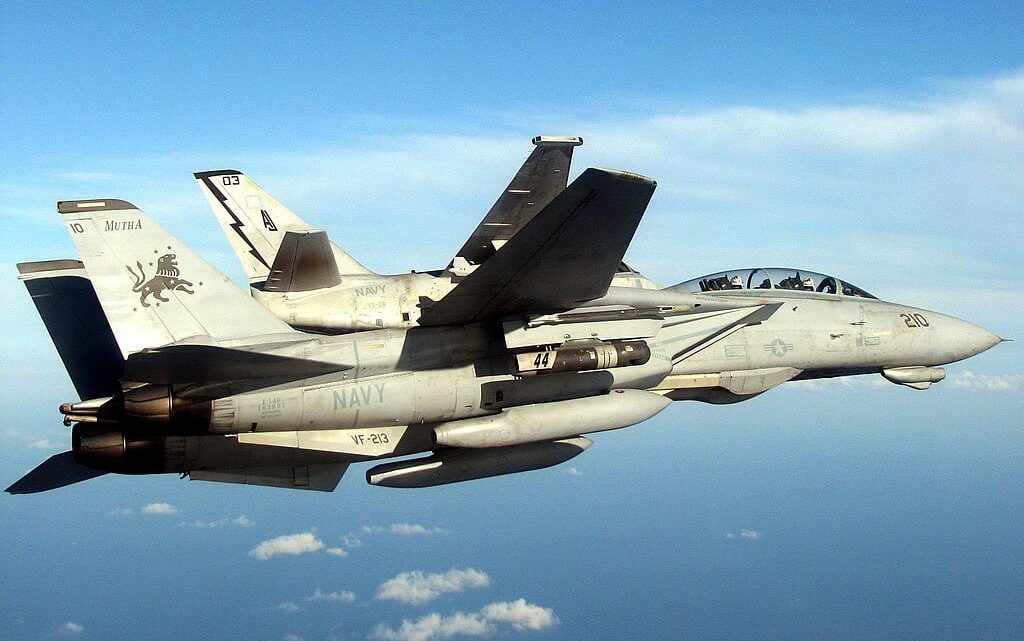 The first flight of the aircraft took place in 1970. Four years later, the Tomcat entered the service. After more than thirty years in service, the tomcat was retired in 2006 and its roles were taken over by the Hornets.
Over the years, several variants of the aircraft have been produced and the total number built reached 712.
The initial and most numerous version was the F-14A. Later in 1987, the Tomcat received major upgrades. The original engines have been replaced and a radar warning receiver has been added. At first, the upgrade was simply called F-14A+, and later it was renamed F-14B.
The final variant was the F-14D known as the Super Tomcat. The aircraft again received upgrades including better avionics and a new radar to stay competitive with newer jets.
There were ever only two operators of the F-14 – the United States and Iran. Iran received the F-14s before the revolution and they are still in service. Iran used the Tomcats heavily during the Iran-Iraq war and according to their claims, at least 160 Iraqi aircraft fell victim to the Tomcats, but the total number has never been reliably confirmed.
Best 1/48 F-14 Tomcat Model Kits
Let's start with the most popular scale. You may not like it but it's the 1/48th scale 🙂
| | | | | |
| --- | --- | --- | --- | --- |
| Image | | | | |
| Name | F-14A Tomcat | F-14D Super Tomcat | F-14A Tomcat | |
| Model Number | 61114 | 88007 | 80366 | |
| Manufacturer | Tamiya | AMK | HobbyBoss | |
| Scale | 1/48 | 1/48 | 1/48 | |
| Released | 2016 | 2019 | 2010 | |
| Markings | 3 | 5 | 2 | |
| PE Parts? | No | Yes | Yes | |
| Paint Masks? | Yes | No | No | |
| Price | Check on Amazon | Check on Amazon | Check on Amazon | |
Tamiya 1/48 F-14A Tomcat – Best Tomcat Kit Overall in Any Scale
Being first released in 2016, Tamiya's family of F-14 model kits is not old at all. Yet, it has already attained almost a legendary status among the model-building community. Many of those who have this kit consider it possibly the best model kit ever produced. While I am not a Tamiya fanboy, this kit is one of my favorite kits. Normally, I don't build the same kit twice, but this build was such a pleasure that I had to buy and build another one.
At the time of its release, the kit was probably the best-fitting 1/48 kit ever produced and it still is one of the best. It has perhaps only been surpassed by Tamiya's newer P-38 and F-4B kits.
If you don't want to build an early F-14A, then you can choose one of Tamiya's other versions of this kit. So far they have released the F-14D and a late version F-14A. The late version comes with new parts for the wings. This version is designed to be built in the pre-launch state and the kit also includes a figure of a Catapult Officer and a printed carrier deck, making it a good choice for those wanting to pose the jet in sort of a diorama.
Pros
Unrivaled Tamiya's engineering – all parts fit extremely well and almost no filling is required. This is excellent for those looking for a no-hassle, no-stress build. Works very well as a mojo-restoring kit.
Fine surface details
Masks included, although you will have to cut them out yourself
Beautiful figures included
Three attractive markings – Jolly Rogers, Bounty Hunters, and IRIAF
Clear instructions
Detailed cockpit – honestly I don't really see any benefit in resin replacements for this kit. Perhaps only resin seats would be enough if you plan to leave the canopy open.
Cons
The early F-14A and F-14D kits versions of this kit only allow you to pose the wings in a closed state with no positionable flaps or slats. The late F-14A kit allows you to pose the wings in the open state, but you are no longer able to pose them in the closed state. Oh well.
No PE seat belts. Seat belts are only provided as decals which don't look good at all.
The kit is expensive.
I wish Tamiya would include color callouts for other brands as well since their own range is limited and not always the most accurate
---
AMK 1/48 F-14D Super Tomcat
There has been so much hype about the AMK's F-14D that it was pretty much destined to fail at becoming the king of F-14 kits. It was announced even before anyone even knew that Tamiya's engineers were working on their F-14A. For some time it even looked like it was never going to see daylight. After all the delays it was finally released in 2019, beaten to the market by both F-14A and F-14D by Tamiya released in 2016 and 2018 respectively.
Anyway, that's enough about the history of this kit. What matters is that it was released and it is actually a very good kit with some unique design features many of which had already been utilized on the previous AMK's model kit – the extremely popular MiG-31.
Let's have a look at some of the standout features:
One-piece forward fuselage – multi-dimensional sled molding technology has been used for this part, which means you will not have to fill and sand seam lines as you would with a two-part fuselage. Once you build the cockpit tube subassembly, you just slide it into the front fuselage, and you are done.
Slide-molded missiles and bombs – again, the armament is slide-molded and is easy to build. Other kits usually include bombs and missiles that have to be assembled from two halves, which in turn requires tedious filling and sanding. This is not the case here as most assemblies require you to join forward and backward pieces together. Some of the bombs and missiles are even molded from a single piece of plastic – eg. the Sidewinders.
Multipart canopy – The canopy is assembled from two parts – the clear plastic part represents the glass and the grey plastic part forms the frame of the canopy. The benefit of this is easier painting and better details on the frame. If you prefer the traditional approach a single-piece clear canopy is included as well.
Pros
Great use of the slide-molding technology
Lots of parts can be posed in the open position
Wings can be assembled in various positions with appropriate positions of flaps and slats as well
Massive decal sheets – 5 markings to choose from including the popular VX-9 Playboy Bunny aircraft
Some photo-etched parts are included
Cheaper than Tamiya's F-14
Cons
Lots of ejector pin marks in places where they have to be filled – eg. landing gear legs, landing gear doors, intakes
Some parts require brute force to join them without steps or gaps – not nearly as hassle-free build as Tamiya's kit
Some inaccuracies
The surface details are on the heavier side
No masks included
---
HobbyBoss 1/48 F-14A Tomcat
HobbyBoss' F-14 family of 1/48 kits is the oldest one of the modern trio and is widely considered the worst one but that does not mean it is a bad kit. It is actually a very good kit and it is miles ahead of the old F-14 kits by Revell, Academy, Italeri, and possibly even Hasegawa.
Of the three recommended F-14s, this one is the cheapest, therefore it might be a good choice for those on a tight budget.
The kit is well-made with fine details but it does suffer from some inaccuracies. Although I am not one to complain much about inaccuracies, HobbyBoss or Trumpeter did a pretty bad job with the intakes angle. Does the model look like an F-14? It sure does, and if you don't know the F-14 that much, you may never notice this blunder.
Another thing that I don't like about this model is something that HobbyBoss and Trumpeter do quite often – they add huge numbers of deep rivets in places where there should be pretty much none. In the case of this kit, it's primarily on the wings and vertical stabilizer. If you don't mind this you can leave the rivets as they are. Otherwise, you will have to fill them with putty.
Apart from the F-14A kit, HobbyBoss also released three other versions of this kit over the years. These include the F-14B and F-14D and also the F-14A again. This time the kit has been named "Persian Cat" which, as you might have guessed, covers the F-14A in the service of the Iranian Air Force.
Pros
Finely engraved surface details
Some photo-etch parts are included – seat belts, canopy parts, and radar parts
Can be posed with the nose cone up allowing you to show the radar inside
Many parts can be positioned in the open state – for example, the various avionics bays
No major fit issues
Cons
Some shape inaccuracies – the most prominent is the wrong angle of intakes which is something that has been inherited from the Trumpeter's 1/32 F-14
Heavy rivetting in areas where there are no visible rivets on the real thing – eg. wings and vertical stabilizers
No masks included
Rubber tires – I wish HobbyBoss and Trumpeter would stop using these.
---
Tip: If you would like to bring your F-14 Tomcat model to the next level consider using an airbrush.
Special Mentions
Eduard Danger Zone
If you are sometimes browsing eBay or buy/sell sections of modeling forums, you may come across a 1/48 kit named Danger Zone. This kit is obviously named after the famous Top Gun song by Kenny Loggins. It was released by the Czech company Eduard some time ago and it is a limited edition re-box of the HobbyBoss kit with many high-quality aftermarket parts included. It was a pretty good value back when it was released, however, you are not likely to find it for a good price anymore because its collector value has increased quite a bit.
Hasegawa F-14
Hasegawa's F-14s were first released in 1988. Since then, Hasegawa just keeps reboxing them almost every couple of years. While the kit is not bad at all and it is considered to be a pretty accurate representation of the real aircraft, it's not a kit I would buy in the 21st century. I just see no reason to buy it at its hefty price now that we have three modern kits available and GWH is rumored to be working on another one.
Best 1/72 F-14 Tomcat Model Kits
For those who prefer smaller models for whatever reason, here are the recommended kits in the 1/72 scale. If you are on a tight budget and/or a beginner, I recommend choosing the kit by Academy.
| | | | |
| --- | --- | --- | --- |
| Image | | | |
| Name | F-14D Tomcat VF-31 Tomcatters Sunset | F-14A Tomcat "USS Independence, 1995" | F-14A Tomcat VF-143 Pukin Dogs |
| Model Number | 61114 | FP32 | 12563 |
| Manufacturer | GWH | FineMolds | Academy |
| Scale | 1/72 | 1/72 | 1/72 |
| Released | 2020 | 2018 | 2019 |
| Markings | 3 | 2 | 1 |
| PE Parts? | No | No | No |
| Paint Masks? | No | No | No |
| Price | Check on Amazon | Check on Amazon | Check on Amazon |
GWH 1/72
F-14D Tomcat VF-31 Tomcatters Sunset [Limited Edition]
The release of GWH's family of F-14 kits started in 2019 and since then, they've managed to cover all three versions of the Tomcat.
As we have grown to expect, GWH's kit is excellent. However, just like their other kits also quite expensive and might not be the best choice for someone who's just starting out with jet modeling.
The kit I am recommending here is the D version. It's a limited edition that is dedicated to the famous Tomcatters squadron. If you would like to save some money, you can have a look at the non-limited version of the kit as it is usually slightly cheaper.
Of the three 1/72 kits I am recommending in this article, this is the only one that has wings in the dirty configuration. That means you can pose the aircraft as if it was ready for take-off or for landing with flaps, slats and spoilers deployed. All the other kits only allow you to pose the wings as if the aircraft was parked or in flight. I guess this is also one of the reasons why this kit is more expensive.
Both the upper and lower speed breaks are deployable as well.
The fit of the parts is excellent and if you will use extra thin cement, chances are you won't need any filler at all. Just light sanding could be enough.
Pros
Fine recessed surface detail
Almost Tamiya-like fit
Nicely detailed armament
Very detailed wings with deployed moving parts (flaps, slats, and spoilers)
Cons
Very expensive kit – get it on sale if you can as the normal price is in the 1/48 territory or get one of the non-limited edition kits
No photo-etch parts included
No seat belts
GWH's take on instructions is confusing
---
FineMolds F-14A Tomcat
FineMold's F-14 was first released in 2015 and it was delivered in a rather strange way. The kit sprues were bundled with the Japanese magazine "Model Graphix" and spread across 4 volumes of the said magazine. Later, however, the kit was released in the traditional boxed format, although only as of the A variant.
The kit received positive reviews and before the release of the Academy and GWH kits, it was considered the best by many modelers.
The fit of the kit is overall pretty good, although there are some areas that may require some putty – eg. the spine of the aircraft. The surface detail is excellent and the same can be said about the cockpit. Traditionally, there!s no harness for the seats provided so you will need to either craft your own out of foil or buy some aftermarket PE set.
Many of the bays present on the aircraft can be left open. For example, the bays on the forward fuselage will reveal the gun and the ammo drum. Speed brakes can be opened as well. The only things that are missing are the moveable parts on the wings. That's one of the small things that set this model apart from the GWH's kit.
There's another downside – the FineMold kits are not as widely available in the US as those from Academy or GWH.
Pros
Overall pretty good fit
Many hatches and doors can be posed as opened – the same goes for the speed brakes
Excellent details
Cons
Some minor gaps that have to be filled
The wing assembly results in a seam line on flaps
Only a "clean" configuration for the wings is available
Only the A version has been released in the traditional boxed version
---
Academy 1/72 F-14A Tomcat – Best Value for Money 1/72 Tomcat
Academy's new F-14A in 1/72 hit the market in 2019 and it is considered one of the best 1/72 F-14s ever released.
What I consider a really stupid mistake about this kit is the box art. I mean, it is a beautiful box art but it's the same one as the one they used on the ancient Academy/Minicraft F-14A and also on their rather poor 1/48 F-14A. If someone's putting a lot of money into the development of a new model kit, recycling the old box art seems really counterproductive. If it was meant to confuse the customers then they sure did a good job.
Anyway, enough of box art bashing. This kit is really good and can be built almost without any fit issues. Some details may be missing such as the dampers on the front gear leg, but for the money this kit costs, I would not mind doing some scratch-building.
The decals are printed in Italy by Cartograf which is pretty much a guarantee that they are going to be great. Unfortunately, only one marking is included – for the VF-143 Pukin' Dogs CAG bird from USS America. If you don't like the scheme, you will have to go aftermarket or choose another model. But in my opinion, the Pukin' Dogs scheme looks great.
What's also cool about this kit is that the sprue content covers just about any F-14 version. The only major thing that is missing is the TARPS pod for the F-14D version.
Pros
Builds into an accurate F-14A
Excellent value
Lots of sprue content for the money – no problem building either the F-14B or F-14D out of this box
Wings are moveable
Good surface details – although not as riveted as the GWH offering
Cons
Only one marking included
Some missing details
Everything is molded closed – not an optimal choice for those who like to show details such as avionics or gun bays
Recycled box art
---
Best 1/32 F-14 Tomcat Model Kits
The 1/32 scale is not as popular as the 1/48 scale for jet fighters because the models tend to be big and expensive. Therefore there are really only two kits to choose from. The choices are:
Trumpeter 1/32 F-14A Tomcat
Trumpeter's offering suffers from some of the same inaccuracy issues as the HobbyBoss 1/48 kit. That's because the 1/48 is most likely just a scaled-down version of the 1/32 kit as it's often the case with HB/Trumpeter kits. Funnily enough, the rivets everyone's complaining about on the 1/48 kit are not present here. Makes you really wonder why they've decided it'd be a good idea to add them.
Compared to Tamiya's offering, the Trumpeter's kit offers finer and overall better details, positionable flaps and slats, and metal landing gear legs. The metal parts are especially welcome as the 1/32 kits are quite heavy and the weight may sometimes cause bending of the plastic legs.
---
Tamiya 1/32 F-14 Tomcat
Tamiya's 1/32 F-14 kits have been considered the best for some time but after the release of the Trumpeter's Tomcat kits, it is no longer the case. It's not really surprising as the origins of this kit can be traced back to 1980. Sure, the Black Aces rebox included some new parts but it is still visible that it is not the newest kit around.
Don't get me wrong, this kit is not bad, however, you will most likely need to invest in some aftermarket parts to make it really shine. If you can find the kit for a low price, then I would consider getting it. However, most of the time, this kit is actually more expensive than the Trumpeter's version.
---
Conclusion
So, I have shown you the F-14 plastic model kits I would personally consider if I wanted to build another F-14. As always, my priority was the overall enjoyment of the building process. In my opinion, the best Tomcat kit currently on the market (January 2022) is Tamiya's 1/48 kit and it doesn't really matter whether you choose the A or D version.