Have you seen Top Gun: Maverick, yet? I bet you did. And if you didn't, you should. F/A-18 Super Hornets are all the rage now thanks to the Hollywood blockbuster. But Super Hornets were popular even before the movie hit the theaters.
These awesome carrier-capable jets have entered service in 1999, and they're still going strong. The Super Hornets were designed to replace the aging F-14 Tomcats. They're sleek, stylish, and powerful war machines that pack a serious punch.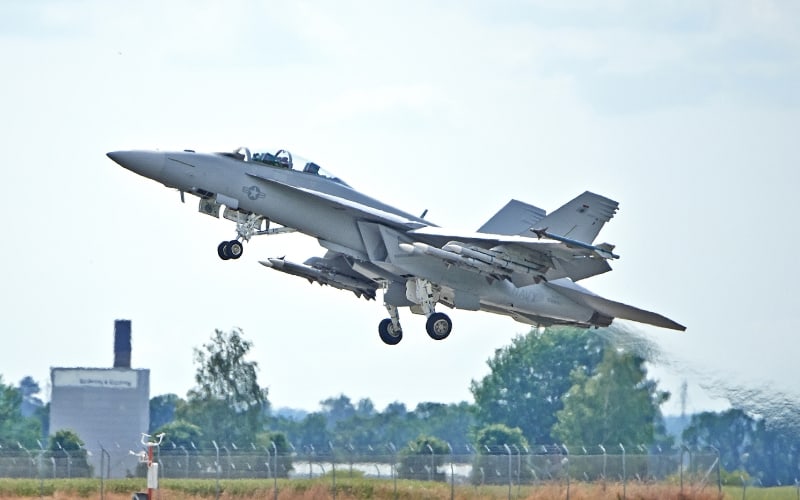 If you're looking to get your hands on a Super Hornet of your own, you're in luck. There are plenty of great F/A-18 Super Hornet plastic model kits available on the market. Up until recently, the selection of Super Hornet kits was pretty limited.
But now, possibly to ride on the Top Gun: Maverick hype wave, manufacturers have started to release more and more Super Hornet kits. This is great news for modelers who want to add one there are plenty of options to choose from, and I've rounded up the best of the bunch.
As always, I will divide the kits based on the scale.
Let's start with the most popular scale among airplane model builders.
Best 1/48 Super Hornet Kits
1/48 is easily the most popular scale among airplane modelers. And for good reason. It's a great size that allows for a lot of detail without being too big or too small.
The selection of 1/48 Super Hornet kits is pretty good thanks to recent releases by Meng and Hobby Boss.
Meng F/A-18E Super Hornet – Best Top Gun: Maverick Kit
Meng's first Super Hornet was released in 2020 so in terms of scale modeling, it is still a brand-new kit. Meng is a Chinese company that's best known for its AFV models. Nevertheless, Meng has managed to impress with their take on the Super Hornet.
They've managed to come up with a very nice kit that offers plenty of details and a very good fit of pretty much all of the plastic parts. It's not Tamiya level, but it's close.
The kit comes with a detailed cockpit and wheel wells. It also includes two sets of canopy parts (one clear and one tinted), as well as an assortment of weapons and stores.
In terms of markings included in the box, there are plenty to choose from. There are 4 markings in total:
VFA-31 Tomcatters – 166776/AJ 100 – high-viz CAG bird featured on the box art
VFA-31 Tomcatters – 166779/AJ 103
VFA-87 Golden Warriors 168913/AJ 303
United States Navy Strike Fighter Tactics Instructor Program
The last marking is labeled as "Pilot unknown" in the instructions but it is pretty obvious this is the jet piloted by Captain Pete "Maverick" Mitchell from the Top Gun: Maverick blockbuster.
Are there any downsides? Well, for some it might sound like nitpicking but I think the kit would look even better if it had finer recessed panel lines. I mean it's not terrible or anything but I prefer finer panel lines.
Hobby Boss F/A-18E Super Hornet
Hobby Boss is not a new player in town when it comes to F/A-18s. Their lineup already featured the legacy Hornets but they were missing the Super Hornets. This changed in 2021 when they released their 1/48 F/A-18E kit.
The kit comes with a whopping 6 marking choices:
VFA-105 Gunslingers BuNo 166651 / AC401
VFA-192 Golden Dragons BuNo 165782 / NE300
VFA-31 Tomcatters BuNo 166777 / AJ101
VFA-31 Tomcatters BuNo 166776 / AJ100
Blue Angels BuNo 165536
Navy Fighter Weapons School TOP GUN (Capt. Pete "Maverick" Mitchell)
Many people are not fans of Hobby Boss but I think they've done a pretty good job with this kit. The recessed panel lines are nice and fine (finer than Meng's), and the overall fit of the parts is good, although not as good as Meng's.
When it comes to armament, the kit comes with a huge selection of weapons and stores, including the obligatory Sidewinder and AMRAAM missiles, as well as a bunch of bombs and drop tanks.
Hasegawa F/A-18E Super Hornet
Hasegawa's Super Hornets were first released in 2005 and for a long time, they were considered the best 1/48 Super Hornet kits on the market. The level of detail is still great even by today's standards.
Hasegawa has released many re-boxings of this kit. The current boxing that's on the market has a model number PT39.
Only two markings are included in this release:
VFA-115 Eagles BuNo 165781/NK200
VFA-27 Royal Maces BuNo 165860/NF200
That's not that big of a deal but what I don't like about Hasegawa kits is the lack of armament. You only get Sidewinders and AMRAAMs. Want more? Then you will have to buy Hasegawa's armament pack or take the third-party route which honestly is the way to go as Hasegawa's packs are now a bit dated anyway.
If you can get the kit in a sale or second-hand, you may consider getting it. But if you're looking for a brand new kit with a good fit and slightly better details, I suggest going with one of the newer releases by Meng or Hobby Boss.
Tip: There's a limited edition boxing of Hasegawa's Super Hornet that was released by Eduard. The kit is called Superbug and features a lot of the usual Eduard goodies such as photoetched parts, painting masks, resin seats, and an awesome decal sheet featuring 5 different markings. It's been sold out on Eduard's website for a while, so your only chance might be eBay or "buy and sell" sections of scale modeling forums.
Best 1/72 Super Hornet Kits
As of the time of this writing, two 1/72 Super Hornet kits on the market could be considered the best. One is made by Hasegawa and the other by Revell.
Academy's kit is very good too but it's part of their snap-fit series which means it doesn't offer as much detail as the Hasegawa and Revell kits. Especially in areas such as the landing gear, gear well doors, and pylons/armament.
Revell 1/72 F/A-18F Super Hornet – Best 1/72 F/A-18F
There's been a lot of talk about how whether Revell's Super Hornet is a better kit than Hasegawa's. In my opinion, they are pretty close and you won't make a mistake with either one.
But if I had to choose, I would give the nod to Revell.
Two main reasons for that. First, Revell's kit has more armament options. Not overwhelm you with a ton of options but gives you enough to make your Super Hornet look cool. Whereas Haseagawa's Super Hornets come with only Sidewinders and AMRAAMs.
Second, Revell's kit is a bit more detailed.
The kit that's currently being sold by Revell comes with two markings:
VF-103 Jolly Rogers BuNo 166620
VFA-11 Red Rippers BuNo 166631
If you do decide to the Revell route, make sure to get one of the newer boxings as they used to re-box Italeri's kits and they were not nearly as good. The current F version has a serial number "03834" and the E version is currently only available as part of the Top Gun boxing that includes also an F-14A Tomcat.
Best 1/32 Super Hornet Kits
Although Super Hornets are not the largest jets out there, they are still fairly large aircraft. Consequently, 1/32 Super Hornet will be about 22 inches (56 cm) long.
If you've got that much display space and you want a Super Hornet, then you only really have two options – a Revell kit and a Trumpeter kit.
Out of these two, the Trumpeter kit is the better one. It's not perfect but it's the best 1/32 Super Hornet on the market.
Trumpeter 1/32 F/A-18F Super Hornet
Having been released in 2010, the kit is not exactly new but it's not that old either.
It comes in a huge box with a nice box art depicting a CAG bird from the VFA-2 Bounty Hunters squadron.
In total there are three markings to choose from:
VFA-102 Diamondbacks BuNo 165882
VFA-103 Jolly Rogers BuNo 166620
VFA-2 Bounty Hunters BuNo 165916
Of course, aftermarket decal sheets are available as well if you don't like what's included in the box.
There's a huge variety of armament included in the kit. You get Sidewinders, AMRAAMs, Harpoons, AGM-154, and many others. Hasegawa should take note – this is how you do it!
The surface details are nice and crisp and the fit is pretty good as well. Still, not Tamiya level but the Revell kit is a total nightmare compared to this one.
What I like about these huge Trumpeter/Hobby Boss kits is the fact they often include white metal landing gear parts. Although perhaps not as detailed as resin or plastic ones, they are still a very welcome addition because the 1/32 models are big and heavy and that often causes the plastic legs to bend or break.
On the other hand, what I utterly hate about Trumpeter kits are the rubber tires. They don't look realistic at all on their own and are a pain to paint if you try to make the look more realistic. But that's just my opinion – you may feel differently about it. I tend to replace them with resin wheels.
TIP: As usual, there's also a single-seater version of this kit if you're only interested in the F/A-18E.
Conclusion
So, that's it for the best F/A-18E/F kits currently available on the market.
I hope you found this article helpful and that it will make your kit-buying decision easier.
If you are interested in electronic warfare aircraft, I will be covering the EA-18G Growler kits soon.