Almost all plastic model kits require you to glue the parts of the kit together. The only exceptions are the snap-fit kits and even those can be glued to achieve a much better overall look.
There are several types of glue one can use to glue the plastic parts. You can, for example, use ordinary super glue. However, most modelers prefer specialized glues made for plastic kits. These glues are in fact not gluing the parts together. Instead, they melt the plastic parts' surface bonding them together when the solvent evaporates. Essentially, this means these are cement, not glues but many people call them glues anyway.
In a hurry? Check the table below to see the best-rated glues for plastic model kits.
Best Glues For Plastic Model Kits in 2022
We can also divide the welding glues into two groups:
Regular plastic cement
This type of cement usually has the consistency of a syrup. It may take some time to dry completely, so you usually have enough time to slightly alter the fit of the glued parts. While the glue is drying, it can be a good idea to secure the parts together with clamps, masking tape, rubber bands, or whatever else you have on hand.
Thin plastic cement
As the name suggests, this type of cement has a much thinner consistency than the regular one. That means these types are used in a slightly different manner. You can essentially dry-fit the parts together and then use a fine brush to run a small amount of the glue around the seams of the parts. Thanks to the capillary action of the thin liquid, the cement will find its way between the dry-fitted parts and weld them together. This is especially useful for smaller parts; however, some modelers use these glues for the whole model.
Warning – You must be careful with the thin plastic cement. When you are pressing the pieces together and you manage to accidentally touch your own finger with the brush, you will end up with your fingerprint imprinted into the surface of the plastic part. It is not difficult to fix with sandpaper and/or putty but it's extremely annoying. You've been warned.
Then we also have other specialized glues which are used for other aspects of the model building hobby. These are for example epoxy glues when strong bonds are needed, glues for clear parts (essentially PVA). CA or super glue is also very popular among model builders. Some modelers even use CA glue for the whole model-building process. CA glue is also useful as a quick-drying filler.
Now let's have a look at the best glues for plastic kits.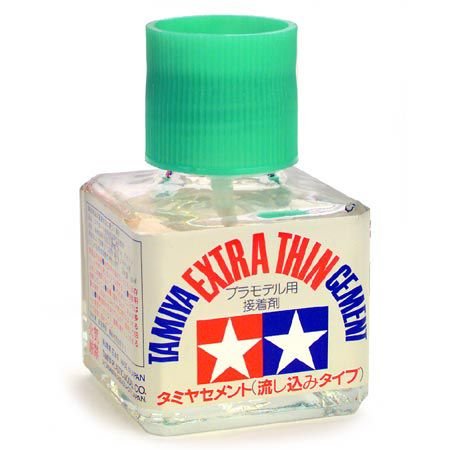 This is one of the most popular extra thin types of cement for plastic model kits available on the market. It comes in a small 40ml jar typical for chemicals made by Tamiya. This amount of glue is enough for numerous models and will last for a long time. I believe I was able to build about ten 1/48 scale aircraft models and three 1/35 scale tank models with just one jar.
There's a built-in brush in the cap which is extremely useful as you don't have to use your brushes. The tip of the brush is nicely pointed allowing you to reach even the tightest spots.
The cement should not be used to flood the plastic parts because it will take ages for them completely dry. For example, if you use too much glue to join the fuselage halves of an aircraft kit, you will often have to wait days before you can start sanding down the joint. If you start sanding and paining too soon a small ridge-like depression may form at the location of the joint. This is often called a ghost seam line.
The cement can also be used to clean up the plastic after re-scribing, sanding, or cutting. Simply moisten the brush in the glue and run the fine tip along the newly scribed panel line and the glue will slightly melt and smooth out the edges of the line. This will make it look much better.
Pros
Fine tip brush
Strong bond
Cons
Strong smell
Drying time is quite long
Needs careful and precise application
This is my personal favorite. It is pretty much the same thing as the normal Extra Thin by Tamiya apart from drying time. As the name of the product suggests, the cement sets much quicker than the previous one. Where the regular Extra Thin takes hours to dry completely, this one takes just minutes. This allows you to build models more quickly.
Pros
Fine tip brush
Strong bond
Dries quickly
Cons
Smell
Needs careful and precise application
This is another excellent thin plastic cement. Its drying time sets it I would say between the two thin types of cement by Tamiya. The cement comes in a 40 ml glass jar with a long cap that's comfortable to hold while gluing parts together. What's in my opinion not as good as Tamiya's offering is the built-in brush. It's much thicker which makes it much more difficult to use with small parts. On the other hand, you should not be discouraged by the brush alone because a sharp hobby knife can easily trim the brush to make it just as good as the Tamiya's one.
Some people also say that the cement's smell is a bit nastier than that of the Tamiya's cement.
Pros
Works great and cures quickly
Cons
Thick brush applicator
Needs careful and precise application
This is another favorite of mine. It is a regular cement that comes in two different packages. You can either get it in a tube, which frankly is not that great, or you can get it in a sort of a plastic jar that comes equipped with a needle applicator. And honestly, the applicator is what sets this cement apart from others. It's incredibly useful in areas where you need to be precise and where you don't have much space. The downside is that the cement sometimes cures in the thin tube; especially when it's not used very often. I found the easiest way to unclog the needle is to heat it with a lighter.
There are two sizes of the plastic jar. You can either get 25g or 12.5g packages with the latter one being often included in Revell's so-called Model Sets.

Cons
The glue sometimes cures inside the applicator
This is another very good plastic cement which is pretty much as good as the Revell Contacta cement, however, this one comes with a built-in brush applicator instead of a needle. It comes in a 20 ml or 40 ml glass jar with a plastic cap. It's great for bonding larger pieces together.
It's cheap and works great.
Micro Kristal Klear is a glue which is typically used to glue clear parts to create small windows up to about ¼ square inch.
It is in fact pretty much the same thing as your regular white glue such as Elmer's. Now you may be asking what on Earth you should pay so much for such a small bottle of PVA glue. The answer is that, unlike other glues, this one is guaranteed to dry crystal clear. Most normal PVA glues will not be as clear as the Micro Kristal Klear when they cure.
The glue's ability to dry crystal clear is especially useful when making small windows on models of airliners or ships. It's very easy to create a window using this glue:
Using a toothpick or brush dipped in the glue, smear it from side to side of the window hole in the plastic part so that a small membrane of glue forms in the hole
Leave it to dry without touching it – You will know it's dry when the glue turns clear from its normal milky color
It is also a great helper when you need to create the glass of positional and other lights on a model. Just a put small blob of the glue where you want the "glass" to form and leave it to dry. When dry, it is possible to paint the "glass" with acrylic clear paints such as Tamiya's X-27 Clear Red.
The glue can be used to glue canopies of aircraft models or windscreens of car models without fear of them getting damaged. If you accidentally put the glue where you don't want it, just wipe it off with a moistened q-tip. The glue is waterproof when cured. For example, a bit of isopropyl alcohol can be used to remove the cured glue.
Just like other white glues, the Kristal Klear will take some time to cure thoroughly. Don't touch the parts when the glue is not cured yet. Otherwise, there is a risk of spoiling the alignment of the glued parts.
Pros
Very clear when cured
Can be used with painted parts
Does not damage plastic parts
Can be used to create windows
Cons
Expensive compared to normal PVA
Shrinks slightly when cured
Check on Amazon!
Plastic Model Kit Gluing Tips
If you accidentally apply the glue where you don't want it, there's no way to remove it as it will immediately start dissolving the plastic. However, you can repair the damage with a bit of a filler and sandpaper. Clear parts can also be saved if you sand the damage down and then polish the part back to its original clearness. Fine grade sandpapers and polishing compounds are your best friends in this case.
If the parts are refusing to stay glued together, make sure the surface is clean.
When you are gluing together parts that have already been painted (typical for aircraft cockpits), make sure to scrape the paint from the mating surfaces. Failing to do so will often result in a weak bond.
Never ever use CA glue for clear parts such as windscreens and canopies. When the CA glue sets, it releases some sort of a white residue that will ruin your clear parts making them foggy. Sure, the white fogging can be polished back, however, it's better to avoid it by using glues that are more appropriate for the task at hand. For example, PVA glue can safely be used to glue clear parts of models.
CA glues can also be used as a filler instead of a filling putty. Just keep in mind that fully cured super glue is a much harder material than the polystyrene plastic used to make model kits. Therefore, it's a good idea to start sanding the filled spot before the glue is fully cured.
If you are using cement that has a built-in brush in the cap, don't use the brush when gluing parts that have already been painted. If you do so, you will most likely get some paint on the brush tip and it will, in turn, get transferred into the rest of the glue in the jar. Over time, this can cause deterioration of the glue's adhesive or welding properties.
Concerns
Glues of any type are usually not good for your health or for your surroundings.
When working with plastic cement, make sure the room you are in is properly ventilated. Plastic cement fumes can irritate your lungs and cause bad headaches. Some people can also have allergic reactions. This is also true for all super glues.
Keep the glues out of reach of small children.
Other posts you may like: