I am not a bike guy but I have always been intrigued by the beautiful motorcycle scale models I kept seeing on Youtube and forums. I finally took the leap and bought the Suzuki RGV-Gamma XR89 kit by Tamiya a couple of weeks ago. Why did choose this kit? Well, I obviously liked how the real thing looks. Moreover, the kit is actually quite affordable for a Tamiya kit. It's almost half the price of their current offerings.
Another reason why I've decided to go for the kit was the excellent video by Chris over at the Ziggy's Desk on Youtube. It's a shame he is not making videos anymore.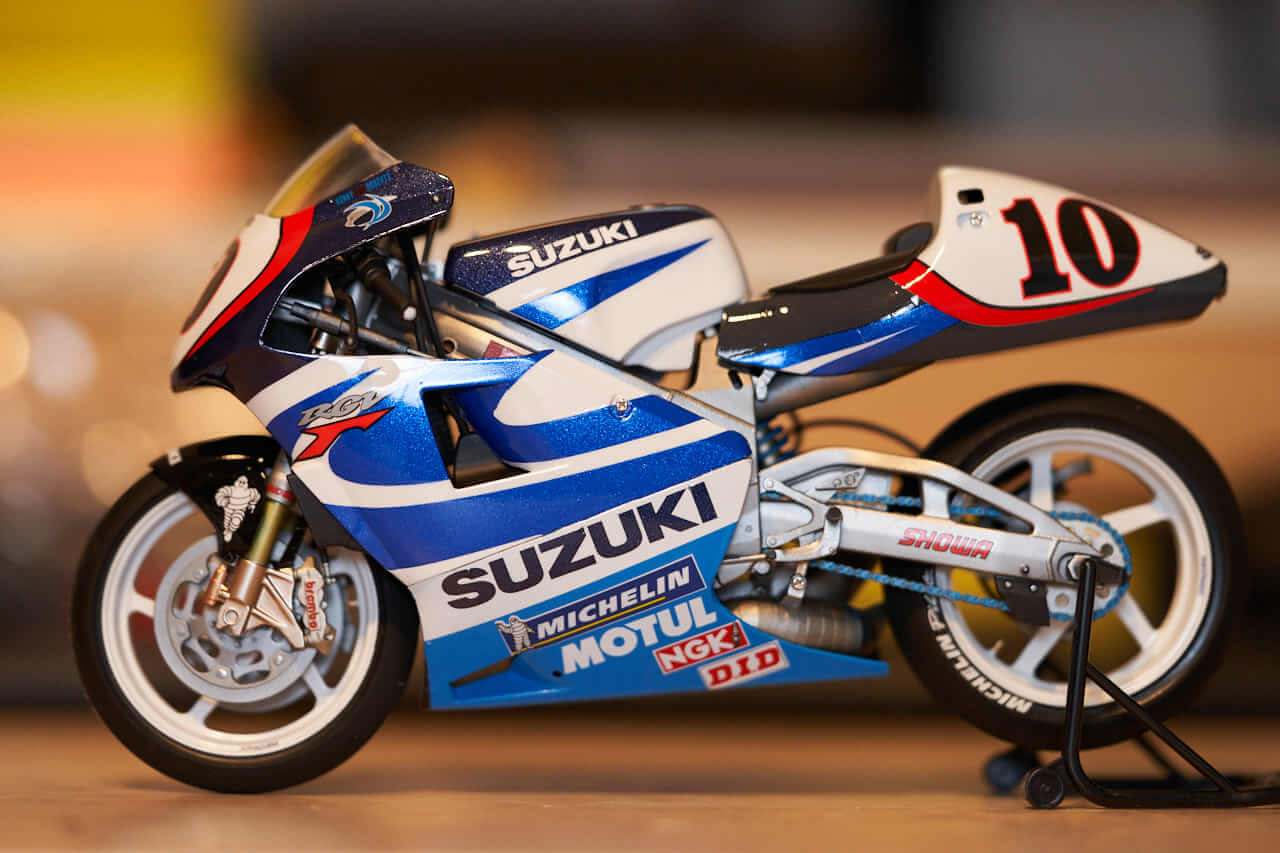 How Was the Fit of the Kit?
Well, it is a kit by Tamiya. Although being released in 2000, it is by no means a new model kit, the fit was great. I had no issues with any of the plastic parts. It's not quite as well designed as recent Tamiya kits though. Compared to newer kits there's a bit more cleanup needed before you can start painting and gluing the parts together.
Also, I wish some parts were molded as one piece instead of being separated into two halves. Especially the fuel tank was quite difficult to fill and sand so that the seam line was invisible. The 4 exhausts are also quite nasty to fill and sand, but the seam lines are fortunately in a place where they are hidden from the plain sight.
Other than that, I've got nothing to complain about.
What Paint Schemes Are Available in the Kit?
Being a model kit of motorcycle that took part in the 1999 MotoGP, there's really only one paint scheme. However, you can choose to build the bike from one of the three drivers who rode it that year. The drivers were Kenny Roberts Jr., Nobuatsu Aoki, and Yukio Kagayama.
I've opted for no. 10 of Kenny Roberts Jr. who finished second that year and ultimately won the championship the next with the same bike, although it then had a different paint scheme.
The painting itself was actually quite easy because the designers over at Tamiya decided to provide pretty much everything as decals. I am of course talking about the fairing. For that, you only need white, blue and black paint.
The frame and the engine are a different story as you will need quite a few different metallic shades. My recommendation is to paint almost everything separately and then glue the parts together. I've used extra thin cement and CA glue for that.
How Were the Chrome-Plated Parts?
The chrome-plated parts actually looked quite nice Maybe a bit too shiny for the frame.
Ultimately though, I've decided to strip the chrome finish from all the parts and repaint them myself with my trusty airbrush and Gunze Super Metallic paints. My reasoning was that some of the "chromed" parts had to be glued together and that would leave ugly seam lines between those parts. Unless you strip the chrome finish, there's no way to fix those.
There are also ugly injection pin marks and sprue attachment points on some of the chrome parts. And like with seam lines, there's no way to fix those without stripping the chrome finish.
If you don't mind any of those issues, then of course you can leave the chrome alone. I personally hate seam lines 🙂
As a result of my stripping the chrome finish, I was able to easily fill the seamlines and injection pin marks using black super glue. I like using super glue as a filler because I don't have to wait hours for it to set before I can start sanding it.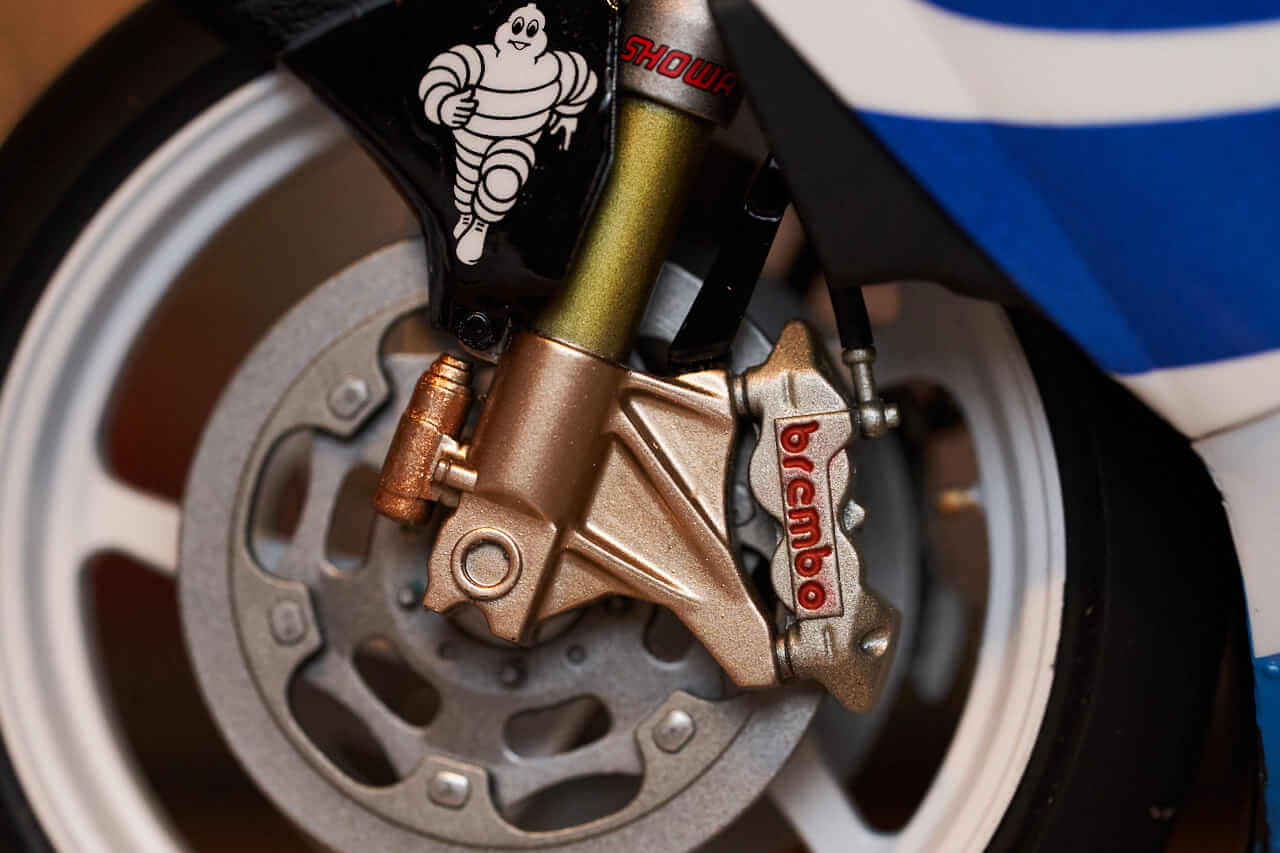 How Were the Decals?
As I have mentioned in the previous paragraph, paint-scheme-wise, pretty much everything is done with decals. And that is possibly my only gripe with the kit. I would have preferred paint masks as in the recent Tamiya kits.
In typical Tamiya fashion, the decals are rather thick, and given the complex shapes of the fuel tank and fairing, it is quite a chore to apply the decals correctly. A copious amount of setting solution was needed to force the decals to conform to the complex shapes and curves.
Although the decals are thick, they are also brittle and I managed to tear two of them when I was applying them to the model. Fortunately, I was able to hide the tears with some carefully mixed paint.
Being thick, there was a very obvious step between the painted parts and the decals. Since I used the 2K gloss varnish by Zero Paints, the steps are pretty much gone. If you were to use a lacquer or other type of varnish, you would likely have to go through several iterations of spraying, sanding, and polishing, to get rid of the steps.
Is the Tamiya Suzuki Rgv-Gamma a Good Kit for Beginners?
The answer to that question is a firm NO. If you are a complete beginner and would like to build a motorcycle model, please, do yourself a favor and choose another kit. Don't get me wrong, the kit is overall great and the fit of all parts is excellent. It's the decals that would quite possibly be a total nightmare for a beginner.
If I were to choose a bike scale model kit for a beginner, I would choose something that does not have many decals and a complex paint scheme. A good choice could be one of the Ducati kits by Tamiya such as the Ducati 916 which is pretty much all red.
Conclusion
Overall, I really enjoyed building the model although it took a lot of curse words to make decals work as I wanted. Would I recommend the model kit? Yes, I would, but please, don't choose this one as your first bike kit.
Other posts you may like: