There's nothing wrong with painting your finished models with a regular paintbrush. However, if you are aiming for the best possible finish and avoid the frustration of having brush marks all over your carefully assembled work of art, you should seriously consider getting an airbrush.
Even using a cheap airbrush will result in a much better finish than you'd ever be able to achieve with a paintbrush. Of course, there are some downsides as well and obviously, the airbrush will require further investments, because it will not work without a compressor. Technically you could use bottles of compressed air, but a compressor is a better long-time solution.
Just like with other products, there are countless airbrushes around to choose from. I've put together this buying guide to help you choose the best airbrush for your model painting needs. We will start with a table featuring airbrushes, which I recommend, but below this section, you will find more details about the process of choosing the right airbrush and more details about the airbrushes themselves.
Top Airbrushes Recommended for Model Builders
This table provides an overview of the airbrushes discussed below. Clicking on the airbrush's name will send you to the overview of the airbrush.

10 Best Airbrushes For Plastic Scale Models
Let's have a look at some of the airbrushes that are good choices for scale model builders.
Harder and Steenbeck Infinity CRPlus 2in1 Airbrush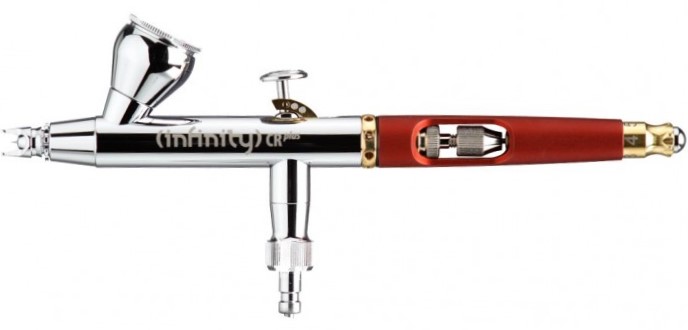 The Infinity is one of the most popular airbrushes among modelers. This is the airbrush I am currently using to paint my models.
I am a fan of the 2in1 setups as you get two different-sized nozzle/needle sets and also two paint cups. There are multiple sets to choose from – 0.15 + 0.4mm and 0.2mm + 0.4mm are the most popular of them.
The nozzles are self-centering. They don't have to be screwed in, like on some other airbrushes, and therefore, you don't have to use any mini spanners to remove the nozzle for cleaning.
The airbrush is extremely well-built and is a joy to use. The reason why I opted for the Infinity instead of the cheaper Evolution, is the Quick Fix preset handle. It is pretty much a needle stop, that has sort of a memory function. With a press of the button at the back end of the handle, you can switch between having the needle stop engaged or disengaged. This is especially useful when you need to switch often between precise and normal work.
You will also find a cutout on the handle that allows you to quickly grab the nut holding the needle and pull it back to unclog the nozzle. Honestly, I don't use this feature at all because the lacquer paints I am using never cause any clogging or tip-dry issues. I also find the sharp edge of the cutout unpleasant when I am using the airbrush for more than an hour. This is probably the only thing I don't like about the Infinity.
The CRPlus moniker marks the lines of H&S airbrushes that sport the new chrome-plated finish. This makes them a bit more expensive than the older versions. However, the new finish is more resistant to thinners, airbrush cleaners, and aggressive human sweat. The older nickel finish would often rub off after some years, revealing the bare brass underneath. If you don't care about the looks of the airbrush, the older cheaper version might still be available from some vendors.
The performance of the Infinity is flawless. It's very easy to use, disassemble, and clean, and really is a joy to use.
Pros
The 2in1 set has everything you could possibly need for model spraying purposes
Has a self-centering nozzle, that doesn't have to be screwed in
Easy to clean and maintain
Solvent-resistant seals
Beautiful chrome finish
A pure joy to use
GSI Creos MR. AIRBRUSH CUSTOM 0.18MM Supreme (Procon Boy PS-771) – Best Airbrush For Detailed Work
This thing has a really strange name just like many other Gunze/GSI products (I will never forget the typo – "Mr.Retarded – Mild" – which I've seen in one online store). But – it is, in fact, one of the best airbrushes for fine detail work you can possibly get.
Just like Tamiya's airbrushes, the Gunze products are made in the same factory as Iwata airbrushes. However, the price difference is staggering. This is almost the same airbrush as Iwata's Custom Micron, apart from being sold for half the price.
The airbrush is sporting a super-fine 0.18mm nozzle, which allows for a hairline spray pattern and works great for intricate Luftwaffe mottling.
It is also equipped with a non-removable 10ml paint cup, which is a tad too large for my needs, but it's not a big problem. A paint cup lid is also included.
On the bottom of the body, there's a mac valve. This can be used to make fine adjustments to the air pressure.
Handle also features a needle-stop system. There's no Quick Fix system like on the Infinity, but at least there's a numbered dial, which makes using the same settings easier than say on Iwata's Custom Micron, which comes without the dial.
Pros
18mm nozzle for fine detail work
Low price when compared to similarly-specced Iwata Custom Micron
Well built
PTFE seals
MAC valve for precise air pressure adjustments
Numbered needle stop system
Air hose included
Cons
The paint cup seems to be unnecessarily big for detailed work
Screw-in nozzle
Harder and Steenbeck Evolution CRPlus 2in1 Airbrush
If you don't care about the Quick Fix handle, the H&S Evolution airbrush might be a good alternative to the Infinity, that's also quite a bit cheaper. The Evolution shares many of its components, such as the nozzle or needle, with the Infinity. Its performance is also pretty much the same.
Again, I would pick the 2in1 combo set because it offers good versatility. On the other hand, if you know you only need an airbrush with a fine nozzle, then, by all means, get only the 0.15mm or 0.2mm versions.
Just like with the Infinity, the paint cup is not permanently fixed to the body and can be changed for another one. The 2in1 set contains two paint cups – a 2ml and a 5ml one. In my experience, the smaller one is big enough for pretty much all paint jobs, apart from primer and gloss coats.
Overall, this is another excellent H&S airbrush, that with proper care will last you a lifetime.
Pros
The 2in1 set has everything you could possibly need for model spraying purposes
Easy to disassemble and clean
Same innards as the Infinity
Possibly the best choice for modelers, if the features of the Infinity are not needed
Cons
Lacks the Quick Fix handle of the Infinity (but can be bought separately)
Iwata Eclipse Hp-Cs Airbrush
Iwata is well-known for producing some of the best, if not the best, airbrushes in the world. They have a wide range of airbrushes ranging from the cheap NEOs made in China to the hugely expensive Japan-made Custom Microns.
The Eclipse series lies somewhere in between with a price of around 150 dollars. Unlike, the NEO line, the Eclipse is made in Japan.
The airbrush is equipped with a 0.35mm nozzle that provides great flexibility. It can be used for detailed work as well as for situations that require wider coverage. For extremely fine details, it's not as good as the H&S 0.15mm airbrushes or the Iwata's own Custom Microns though.
The nozzle is of the self-centering type. Just drop it in, screw on the nozzle cap and you are ready to go. No need to mess around with the fine spanner worrying about damaging the nozzle.
The 7ml (1/3 oz) paint cup is fixed to the airbrush's body and cannot be changed.
Overall, this is an excellent airbrush, that, depending on your model subjects, can very well be used for pretty much everything. If you are building smaller models, which don't require much paint, you can also choose the Hp-Bs version of this airbrush which comes with a smaller paint cup.
Pros
35mm nozzle is a good choice for an all-around airbrush
Excellent build quality
Good price-performance ratio
Self-centering nozzle, unlike some of the other Iwata airbrushes
Cons
Extremely fine detail paint jobs may be more difficult due to the larger nozzle
Paint cup is not exchangeable
Iwata-Medea High Performance Hi Line CH Airbrush
This is one of the best Iwata airbrushes and also one of the best airbrushes available on the market. The Hi-Line Series airbrushes feature PTFE seals to prevent issues when using aggressive solvents as thinners or cleaners.
The size of the provided nozzle is 0.3mm and it's made physically slightly larger and with larger threads than similar nozzles. This allows for better centering which can normally be somewhat problematic with the screw-in nozzles.
The airbrush is equipped with a 9ml (1/3oz) paint cup, that's non-removable. It's perhaps slightly too large for most model building needs, but it's not a big deal. There's however another version of this brush, which comes with a smaller cup, but that one is maybe too small. I know, I am not easy to please.
One of the features, that I particularly like about the airbrush, is the micro air control valve. There's basically a small screw at the bottom of the body, which allows you to fine-tune the air pressure.
What I could do without, is the cutout on the handle, however, I understand someone else might actually like it. The handle is also of the "pre-set" type, allowing you to adjust the needle stop for more precise paint volume control.
Overall, it's an excellent, but also very expensive airbrush, that can be used for pretty much all model-spraying tasks thanks to its 0.3mm nozzle.
Pros
3mm nozzle is perhaps the most flexible size for modeling needs
Larger nozzle threads allow for easier centering
Paint volume fine-tuning possible thanks to the adjustable needle stop
PTFE seals – solvent resistant
Cons
The paint cup could be smaller
Tamiya 74545 Spray-Work HG Airbrush III Super Fine
Tamiya airbrushes are actually manufactured in the same factory as the renowned Iwata airbrushes. That alone should be a sign that they are excellent tools.
The 74545 double-action airbrush comes with a 0.2mm nozzle, which makes it an excellent choice for fine detail work. With some practice, it's possible to paint 0.5 mm lines with this airbrush.
It's certainly less ideal for large-scale works like priming 1/48 modern jets. Of course, it can be done, but it will take quite some time.
The airbrush features a big 7ml paint cup, which may be overkill for fine details, but it's there.
There's also an adjustable needle stop, which allows you to precisely adjust the maximum volume of paint released from the airbrush.
Pros
Well-made airbrush
Excellent choice for painting fine details with its 0.2mm nozzle
Paint volume fine-tuning possible thanks to the adjustable needle stop
Reasonable price
Made in Japan
Cons
Screw-in nozzle
The paint cup could be smaller
Iwata-Medea Revolution CR Dual Action – Best Airbrush For Car Model Builders
This is another hugely popular airbrush manufactured by Iwata. The Revolution is their basic line of airbrushes, which are still made in Japan. There are no special bells and whistles involved. It is a simple airbrush designed to be a workhorse.
It comes with a large 0.5mm nozzle and a large 9 ml paint cup. This makes it a very interesting choice for ie. car modelers since they usually need to cover large areas with the same color. A 0.5mm nozzle is also great for clear coating, which again, is something car modelers do a lot.
Unlike other cheaper airbrushes, the Revolution comes with PTFE seals.
Pros
5mm nozzle is perfect for clear coating, priming, and general large area spraying work
Reasonably priced
PTFE seals – solvent resistant
Cons
Not the best choice for fine detailed work
Sparmax SP35 Airbrush
This is another popular airbrush that's also rather inexpensive with its price being set around the 100 dollars mark. The double-action airbrush comes equipped with a 0.35mm nozzle, which makes it a flexible tool for spraying models.
The permanently fixed paint cup can hold 2ml of paint which is frankly not that much. Having a smaller cup means that you will have to refill it more often, but that's only the case when spraying larger areas. On the other hand, this makes the airbrush lighter and it's easier to see what you are painting when there's no huge paint cup in the way.
There's a cut-out on the back part of the handle that allows q quick access to the needle-holding nut. This can be useful for quick unclogging, but I rarely use this feature.
Pros
Good price
Excellent price-performance ratio
A great choice for beginners
35mm nozzle provides pretty good flexibility
Cons
The paint cup could be bigger
Screw-in nozzle
Harder and Steenbeck Ultra Airbrush
This is the third and last H&S airbrush we are going to look at and it's also the cheapest one of them.
The airbrush again features the same nozzle and needle as the top-of-the-line Infinity airbrush.
The Solo package comes with a 0.2mm nozzle and a 2ml paint cup. However, bigger versions of both can be bought separately. Or if wish, there's also a 2in1 package, that contains both additions.
The nozzle is self-centering, making it easy to clean and reassemble. The cup is a little bit different than the one featured on the Infinity and Evolution airbrushes. Instead of being screwed on, this one is simply pushed onto the body of the airbrush.
Pros
Good price
Same innards as the Infinity airbrush
Well made
Cons
Lacks the Quick Fix handle
Paasche Airbrush TG-3F Double Action Gravity Feed Airbrush
This is a complete package. For the price of around 100 bucks, you are getting an airbrush with three different nozzle sizes (0.25mm, 0.38mm, 0.66mm), a special fan air cap, and a 6-foot braided hose. If this sounds too good to be true, then know it sort of is. While the airbrush is labeled as "made in the USA", it simply is not as well made as the competition from Japan and Germany. That's not to say, it is a bad airbrush because it's not. The package is actually a pretty good deal and that's the reason I am including it here.
The special fan air cap coupled with the large 0.66mm nozzle and 0.4oz paint cup makes it an excellent tool for covering large areas quickly. This is a godsend for laying down gloss clear coats that need to be sprayed wet to prevent the orange peel effect.
Pros
3 different nozzles
Paint volume fine-tuning possible thanks to the adjustable needle stop
Reasonable price for all the things you are getting
PTFE seals – solvent resistant
Cons
Not as well made as the Japanese and German airbrushes
Customers had a bad experience with the Paasche customer service
Screw-in nozzles
Iwata NEO CN Airbrush – Best Cheap Airbrush For Models?
Yes, yes, another Iwata airbrush. This one though is not made in Japan. Why include this Chinese-made airbrush, not the Chinese knockoffs, you may be asking? The reason is that it has better quality control than the knockoffs.
It is certainly not the best airbrush you could possibly get, but it gets the job done and is cheap. This makes it a good choice for beginners who don't wish to spend huge sums on the hobby (yet 😊). The airbrush reviews by customers also clearly reflect, that it is not a bad tool for the price.
It comes equipped with a 0.35mm nozzle, which is a flexible enough size for almost all modeling tasks. The fact that it comes with two different paint cups – 2ml and 9ml – is a nice bonus.
Pros
35 mm nozzle is flexible enough for most needs
Low price
Cons
Not as good craftsmanship as the Japanese Iwata
Screw-in nozzle
Buying Guide – How To Choose the Best Airbrush for Models?
When choosing an airbrush, you should consider several factors. Some of them are very important, others less so. Let's have look at them now.
Control Type
Airbrushes come in two basic types. An airbrush can either single or double action. The difference lies in the paint delivery mechanism.
Single-Action Airbrush
These work similarly to traditional spray cans. You just push the button or trigger and both the paint and air are delivered at the same time. It's possible to control the amount of paint delivered by switching to a different nozzle size or by turning the adjustment knob which is present on most single-action airbrushes. A single-action airbrush is easy to use and may be good enough for priming, clear coating, or for large-scale paint jobs, but it's not as flexible as a double-action airbrush when precision matters.
Double-Action Airbrush
These airbrushes have a special trigger that you push down to start the airflow and pull back to start the paint flow. This solution is much more flexible allowing you to precisely control the amount of paint being delivered. A double-action airbrush is especially useful when extreme precision is needed such as when doing soft camouflage transitions or the classic Luftwaffe mottling on an aircraft model. It's also worth noting that the double-action mechanism takes a bit more time to fully master.
There's also a special type of double-action airbrush that has automatic or double-dependent control. With this type, there's no need to press the trigger down to release air. Instead, the airflow is started automatically when you pull the trigger back and you still retain control of the paint flow.
Pistol Grip Airbrush
This type of airbrush is controlled pretty much the same way as the traditional spray gun. As the name suggests, you hold it like a pistol and the trigger controls both the airflow and paint flow. Pull the trigger further back to release more paint. Simple as that. The pistol grip airbrushes are very comfortable to use and could be an interesting choice for beginners looking to cover wide areas quickly.
Bottom line – For modeling purposes, my choice would be a double-action airbrush, because it offers more flexibility than the other types.

Paint Feed System
We can divide airbrushes further based on the way the paint is fed toward the mixing chamber.
Gravity-Fed Airbrush
Gravity-fed airbrushes feature a paint cup that's sitting at the top of the airbrush's body. The paint flows into the mixing chamber freely thanks to gravity. The paint cups can vary in size and some airbrushes even allow you to change the cups based on your current needs. Other airbrushes have fixed paint cups.
Siphon-Fed Airbrush
This type comes with a paint jar that's affixed to the bottom of the airbrush's body and the paint is then siphoned through a small tube toward the mixing chamber. Compared to gravity airbrushes, siphon-fed airbrushes often come with much larger paint cups or bottles allowing you to cover larger areas without having to refill.
Side-Fed Airbrush
This type lies somewhere between the two others and can be either gravity fed or siphon-fed. These are not that popular with modelers, because they are the most difficult of the three to clean and maintain.
The Bottom Line
For models of the most popular scales, there's no real reason to get anything else than the gravity-fed airbrush. They are very easy to clean and maintain, especially if you choose one with a self-centering nozzle. Moreover, they allow you to use lower air pressure than the siphon-fed airbrushes, which is extremely useful when painting thin lines or mottling.

Needle/Nozzle Size
The size of the nozzle of your airbrush will determine how much paint is going to get through at the same time. This will also reflect in the width of the spray area.
Airbrushes typically sport nozzles ranging from 0.1 mm up to 0.6mm, but they can also be large.
Nozzle size for modelers is to a large degree a personal preference. Some people, including me, prefer having one smaller nozzle for smaller details and a larger nozzle for bigger jobs such as priming.
If you are just starting out, I would probably go for an airbrush with a nozzle size that can handle both reasonably well. 0.3 or 0.35mm nozzle is a pretty solid choice. You can then add a smaller or larger nozzle to your arsenal as your skills progress.
In relation to the previous paragraph, please note, that some airbrushes don't have the ability to change the nozzle/needle size. You would have to get a new airbrush for that. For others, such as for example the Harder and Steenbeck airbrushes, you will be able to buy needle/nozzle combos in various sizes.
Another factor to consider when choosing the nozzle size is the paint you are planning to use. Some paints, such as metallics, may have coarser pigments. Those would make it more difficult to spray through a small nozzle and even thinning the paint more may not help much. Smaller nozzles also tend to have more problems with paint drying on the tip of the needle, especially when using water-based acrylic paints.
The Bottom Line
In this case, I can't really tell you what's going to be the best choice for you. If you are a car modeler, you'd probably want something with a larger nozzle, such as 0.4mm. This would allow you to lay down the base color and the clear coat quickly and effectively.
On the other hand, if you are building aircraft models like the German propeller fighters of WW2, you might want to choose something smaller – like 0.2mm.
I am personally mainly interested in 1/48 WW2 fighters and the modern US and Russian jets and I started with a cheap 0.3mm Chinese airbrush. Later I found my way toward the Harder and Steenbeck Infinity CRPlus airbrush with the 0.2mm and 0.4mm nozzles and this works for me very well. I use the 0.2mm nozzle for everything other than primer and clear coats.

Nozzle Type
There are basically two types of airbrush nozzles to consider – a self-centering nozzle and a screw-on nozzle.
Screw-in nozzles
These nozzles are usually tiny and must be screwed onto the airbrush. I have to say I am not a huge fan of these. Tighten it too much and you can damage the nozzle or make it sit off-center hampering the atomization and the spray pattern of the paint. Making it too loose comes with other problems as well.
Unscrewing the nozzle for cleaning also usually requires a mini spanner (that's usually included).
Almost all cheap airbrushes come with this type of nozzle. But mind you, even some of the most expensive Iwata airbrushes utilize these as well. But of course, they are much better engineered.
Self-centering nozzles
There's no screwing involved with these nozzles. You just need to put the nozzle where it belongs and tighten the air cap around it. Simple and quick. Exactly what beginners need.
Most Harder and Steenbeck airbrushes come with these nozzles. Iwata's Eclipse line features them as well.
The Bottom Line
I am a fan of the self-centering nozzles because they allow me to disassemble, clean, and reassemble the whole airbrush extremely quickly. Not having to deal with a tiny spanner and being afraid of damaging the nozzle is a great plus as well. New nozzles are not exactly cheap.

Costs
Switching from a paintbrush to an airbrush costs quite a lot of money. Not only do you have to buy an airbrush, but you also need to buy an air compressor. Otherwise, the airbrush won't work, right?
I think it's reasonable to expect that the total sum needed will be at least 150 dollars. But you know how it goes – buy cheap, buy twice. Cheap and poorly made airbrushes can be a real pain to use and maintain in working conditions. I've been there. So I would suggest saving some more money for one of the better airbrushes instead of getting a Chinese Iwata knockoff for 15 bucks.

Frequently Asked Questions
What airbrush do you use?
I am currently using the Harder and Steenbeck Infinity CRPlus with 0.2mm and 0.4mm nozzles. The 0.4mm nozzle is used only for priming with Mr. Surfacer and for clear coating. The 0.2mm is used for everything else.
I am also sometimes using an old cheap Chinese airbrush for spraying metallic paints. The reason is the fact, that metallics are difficult to clean perfectly. Many model builders like to have a separate airbrush for metallics.
What compressor are you using?
I am using a cheap Chinese compressor. Don't know what's its name but it looks exactly like this one – ZENY Airbrush Compressor. Apart from having to seal all threads with some PTFE tape, I can't complain about its performance. But I am looking to upgrade to something not as loud.
What paints would you recommend for airbrushing?
I love lacquer-based paints such as Gunze/GSI Mr. Color, Tamiya LP, or MRP. But these paints REQUIRE proper ventilation and face masks. Do not even think about spraying them in your living room.
I've also had good results with Tamiya and Gunze acrylics, which I think are alcohol-based.
Vallejo paints, on the other hand, were a PITA to spray. They are my choice for brush painting though.
What accessories would you recommend?
I would definitely get a spray booth that will suck the paint particles and fumes out of your room.
A face mask or respirator is a must-have for me as well. I am using a 3M half-mask. It might be difficult to get a mask now though due to the coronavirus situation.
An airbrush cleaning pot is also a good idea together with some airbrush cleaning tools.