Can you name a ship more famous than the Titanic? Probably not, right? The RMS Titanic is easily the most famous passenger liner ever built. Unfortunately, it's so famous because it sank on its maiden voyage, causing the death of more than 1500 passengers and crew members.
The Titanic has been attracting modelers for decades. Many different plastic scale model kits of the Titanic have been released so far. Their quality, of course, varies widely. Today we will be looking at some of the best titanic model kits available on the market.
Just like any other ship model kit, there are scales to choose from. For ship modelers, or at least for those focusing on passenger liners, the most popular scales are the 1/350, 1/400, and 1/700 scales. Keep in mind, that the Titanic was a huge beast with a length of 882 feet (269 meters). In the 1/400 scale, that means you're going to end up with a 2.2 feet (67 cm) long model. So, unless you've got a lot of space, it might be a wise decision to go for a smaller kit. Did I tell you there's also a huge 1/200 scale Titanic kit? Ok, let's cut to the chase and look at the recommended Titanic kits now.
Best 1/700 Titanic Model Kits
In the 1/700 scale, there are 3 basic kits to choose from – the Academy, Revell, and Zvezda kits. Plus of course, the usual re-boxes like for example the Airfix kit. Please note that the 1/700 scale kits contain small and fragile parts, that need care and some experience, and are not really suitable for young children. Also, if a tiny part breaks, when you are handling it, it's not a fault of the model or the manufacturer as some of Amazon reviewers like to claim.
1/700 Academy R.M.S.TITANIC Led Set #14220 Multi-Color Parts
It's difficult to say which kit is the best Titanic kit in the 1/700 scale. If I had to choose one kit I would probably get this one. Although the details of all the kits are very similar, and none of them are perfect, this one has one big advantage over the competition. The advantage is the inclusion of LED lights, which can be installed inside the model. Turn the LED lights on at night and the model will look awesome.
For some people, there's also a possible advantage of this being from the MCP – multi-color parts – line. What that means, is that the various parts are injected in appropriately colored plastic. This means you don't have to paint the model if you don't want to. That makes it an ideal kit for absolute beginners. However, I would still recommend painting the model, as it will look so much better.
So, is this the perfect Titanic kit? Nope, it's not, it's got its share of problems such as some overscale and oversimplified details, but it goes together well. And of course, if you want to bring it to a new level, you can always get some aftermarket accessories.
If you want to save some money, there's s also a version without the LED lights.
Pros
Price
LED lights included
Easy to build
Cons
Some accuracy issues
Some overscale details
Revell of Germany 05210 RMS Titanic Plastic Model Kit
This is the big rival of the Academy Titanic. It's slightly newer than the Academy alternative and in some areas, it's more accurate and detailed than the Acadamy's kit. However, in other areas, it's ever so slightly worse. If you don't care about LED lights, you can pretty much toss a coin to decide which one to get as both will look pretty good when assembled and painted. The deciding factor might as well be the price as the Revell's offering is often available for a slightly lower price.
Pros
More accurate than Academy's Titanic
Some areas offer more refined details than the competition
Low price
Cons
Some oversimplified and overscale details
Less detailed in some areas – such as the masts – than the competition
Airfix R.M.S. Titanic Gift Set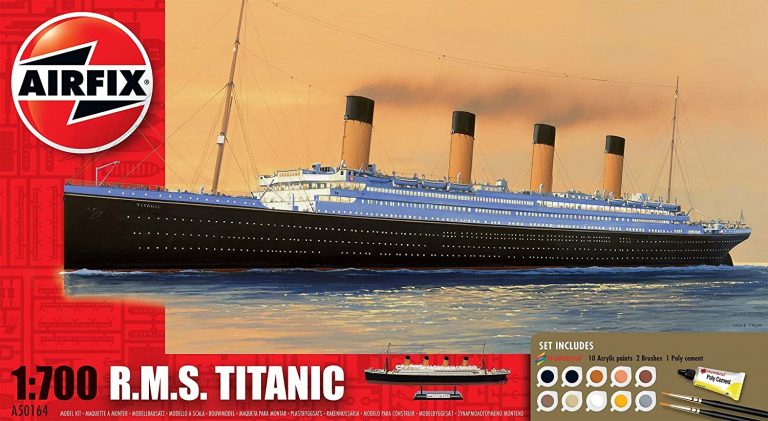 This Airfix kit is just a re-box of the Academy kit. I've included it here because sometimes you can buy it for a lower price than the Academy kit. Note that this does not come with the LED lights. On the other hand, it's a Gift Set, which means the box also contains some acrylic paints, brushes, and cement. That might make it a pretty good choice for a complete beginner who doesn't have appropriate paints yet.
Pros
Paints included with the kit – might be
It's a re-box – the same pros as the Academy kit
Cons
It's a re-box – same cons as the Academy kit
Best 1/400 Titanic Model Kits
In this scale, it's again about deciding between Revell and Academy offerings.
Academy 1/400 R.M.S Titanic MCP
In the 1/400 scale, the Academy kit is the preferred kit to get among most modelers.
In the modeling world, it's still considered a relatively new kit being released only about 20 years ago. The details of this kit are sometimes even better than on the larger Minicraft kit and it's certainly easier to build. The basic kit that's available from pretty much all scale-modeling hobby stores doesn't have photo-etch par included. Neither it has LED lighting. However, Academy sometimes releases a limited-edition kit, that contains photo-etch parts, an LED lighting system, and really nice wooden decks. If you can get your hands on this kit, it's probably the best Titanic kit to get from the perspective of a price-quality ratio.
The MCP part in the name stands for Academy's multi-colored parts, which have been described earlier. I personally don't like multicolored parts, because I believe all models should be painted for them to look the best. But still, do not let this scare you away from the kit. A coat of primer will make a short work of the colored parts.
Pros
Relatively new kit
Crisp details
No flash
Cons
I personally do not like the colored parts, but they might be a "pro" for someone else
Best 1/350 Titanic Model Kits
The only option in this scale is the Minicraft's Titanic kit.
Minicraft RMS Titanic Model Kit 1/350
This kit was first introduced in 1975 with many of the details being based on the plans of the Olympic – the Titanic's sister ship. Later the molds were acquired by the company called Minicraft. They kept selling the kit in its original state until the 1990s after which the kit was heavily retooled to reflect the findings after the discovery of the Titanic's wreck. The kit is still one of the most accurate Titanic kits on the market, but there are still many areas that can be improved. I'd recommend checking the website Titanicmodel.net, which is an incredible source of information on the subject.
If you decide to go for this kit, make sure you are getting the retooled version, which is much better than the original one. The current kit also comes with photo-etch parts which improve the details further and there are also many other aftermarket options to choose from such as for example wooden floors, brass mats, etc.
Pros
Very good details
Vast selection of aftermarket accessories is available
Fairly accurate representation of titanic
Best 1/200 Titanic Model Kits
Well, there's only one kit in this category and that's the Trumpeter kit.
Trumpeter 03719-1: 200 RMS Titanic + LED Lights Model kit
While Minicract's website still claims, that their kit is the biggest plastic kit of Titanic, it's no longer true as Trumpeter released their 1/200 Titanic recently.
As you would expect, it's an absolutely huge model with stunning details, that cannot easily be captured in smaller kits.
From what I've seen on modeling forums, the kit does not appear to be particularly difficult to assemble, but it will obviously take a lot of time as there are hundreds of parts. To spice things up even further, there are photo-etch parts included in the box, as well as an LED lighting system.
If you are a true fan of the Titanic and have plenty of free space in your house, this kit is seriously worth considering. Be prepared though, that it's going to cost a lot more money than the smaller kits.
Pros
Excellent details
LED lights
Photo-etch parts included