If you are a complete beginner you might be wondering what tools you will need to build plastic scale model kits. In this article, I will go over the tools that are essential to have. Without these tools, you won't be able to build a (good) plastic model kit unless, of course, it's one of the snap kits meant for total beginners and kids.
Side Cutters / Nippers
The first that has to be done when building a plastic scale model is to remove the parts from the sprues. Not all the parts at once of course, just the parts you need for the assembly step you are currently at. The worst way of removing parts from sprues is by breaking them off with one's fingers. Please don't do that. You are very likely to damage the parts. Use appropriate tools instead.
There are multiple ways to remove a part from the sprue. I find the easiest and fastest way is to use a pair of side cutters. First, you cut the sprue gate slightly away from the actual part and then you remove the rest of the sprue gate with either the side cutters or with a sharp hobby knife.
As you would expect, there are loads of side cutters to choose from. Many of the model-making companies have their own nippers for sale. Most of them are very good, but they are also very expensive. For example, the famous God Hand nipper costs more than fifty bucks. Many model builders use cheaper alternatives. A very popular alternative, especially in the US, is the Xuron Flush Cutter which usually costs between 10 to 15 bucks.
If you do have enough money to spend, I would recommend getting a pair of high-quality side cutters as they will save you a lot of time. A high-quality nipper with thin blades will allow you to cut the sprue gate very close to the plastic part. Therefore, it will require less cleanup. You do not necessarily have to go for expensive side cutters for your first model though.
The nippers that I can personally recommend would be:
Tamiya Sharp Pointed Side Cutter for Plastic (74123)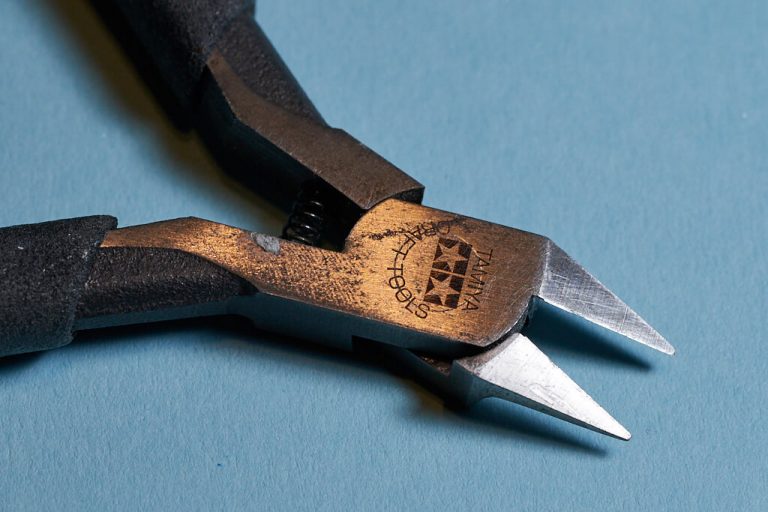 These are really sharp side cutters with thin blades that allow you to easily reach tight spaces. Do not use these for cutting thick pieces of sprues. Use them only for the sprue gates and they will last a long time. Probably my favorite side cutters I've ever had but I managed to slightly damage mine and don't use them that often anymore.
---
Meng Advanced Single-edged Hobby Side Cutter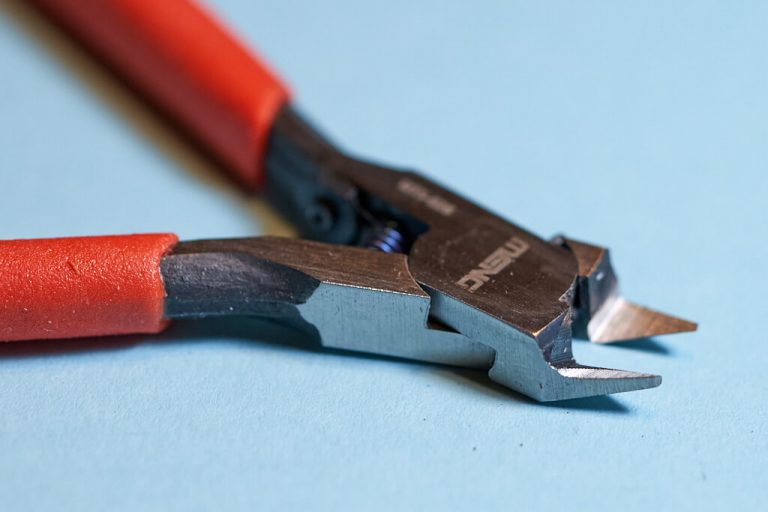 Again, an extremely sharp nipper that leaves almost nothing to clean up after cutting the sprue gates. Unlike the Tamiya model, this one is single-edged, meaning there's only one blade that does the cutting. The other one is flat. This allows for cleaner cuts without stress marks left on the plastic.
This product is actually made by DSPIAE and is just rebranded by Meng. So if you can find the DSPIAE version going for less money, then go for it. The version to look for is the ST-A 3.0. The older ST-A 2.0 is good as well.
---
Hobby Knife
A sharp hobby or a craft knife is an indispensable tool in a scale model builder's arsenal. It's a versatile tool used not only for cutting but also for scraping seam lines. Various models are available to purchase and you will be absolutely fine with tools not made specifically by model-making companies. Possibly the most popular craft knife among modelers is the X-ACTO knife with the number 11 blade. It's cheap, very sharp and readily available in stores.
I personally use the Tamiya's Basic Modeler's Knife. Not because it's the best knife or anything like that, but because I thought it was a great value as it comes with 25 spare blades. By the way, this is just a rebranded Olfa craft knife, so if you can find the Olfa knife for less then go for it. There's no difference apart from the Tamiya's version being sold in many different colors.
Many hobby knives offer various blades to choose from. The most popular blade is probably the one with a sharp point and a straight edge, eg. something like the no. 11 blade for the X-Acto knife. However, other blade types may be useful as well. It comes down to personal preference. I sometimes use small chisel edge blades which are great for removing raised ejection pin marks. And I also use blades with a curved edge which I find useful for scraping pin marks in places that I cannot conveniently reach with the chisel edge.
---
Tweezers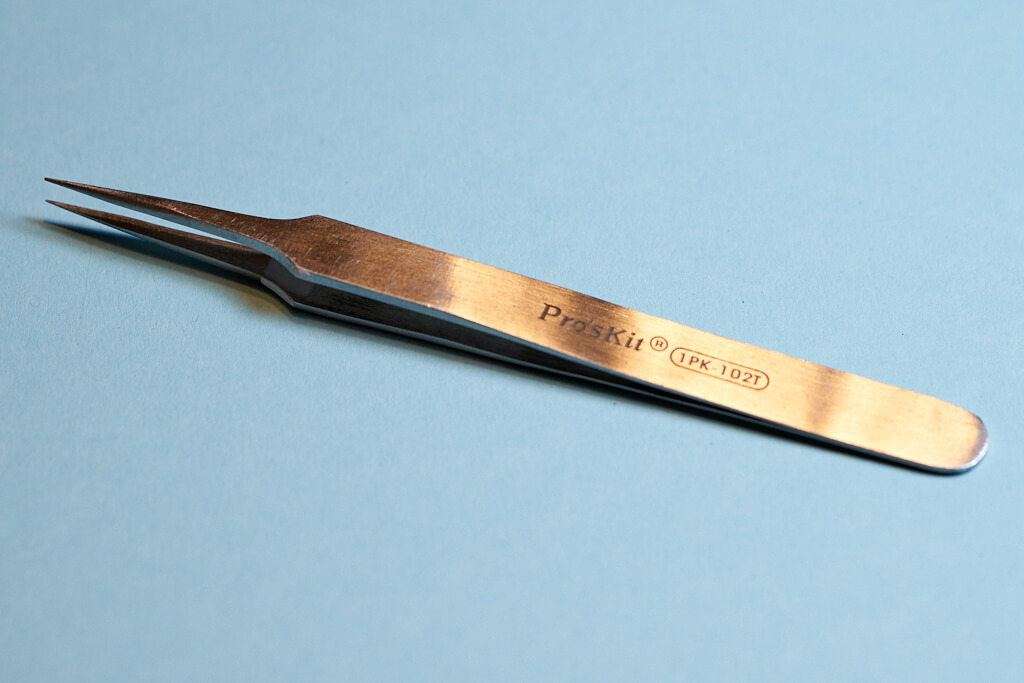 While some kits can be built without the use of tweezers, I still consider them essential. There are areas on most model kits where it's extremely difficult to operate using just fingers. And especially true if you are a guy with large hands a thick fingers. These difficult areas include airplane cockpits and landing gear wells, all kinds of handles on AFV models, car cockpits, and so on. Additionally, ship model builders will need tweezers for pretty much the whole build. Tweezers are also handy for the application of waterslide decals and when removing the masking tape.
As you probably know, tweezers come in various shapes. What kind of tweezers is the best for scale model kits? For me, the most used tweezers are those with thin sharp points. With these, you will be able to reach comfortably almost everywhere.
If you are starting out, you do not necessarily have to run to the nearest shop to buy tweezers. Your mother/wife/girlfriend will most likely have a pair of tweezers. Just ask them kindly and I am sure they will happily allow you to use their tweezers. Or just don't ask them 🙂
Anyway, if you do need to buy tweezers, it's not really essential to buy tweezers made by one of the model kit companies. Regular tweezers used for electronics assembly can work just fine. Make sure you are not getting the cheapest ones available as they tend to bend rather easily. Been there done that.
In terms of types of tweezers, here's what's often used by model builders:
Precision tweezers with a sharp point
These are the bread and butter for any modeler. You will be using a pair of these tweezers for perhaps 95% of all tasks. They are also great for small waterslide decals such as the stencils on an aircraft model. If you only want to buy one type of tweezers, then get this one.
Angled tweezers with a sharp point
Similar to the type mentioned above but can be useful for difficult-to-reach areas. I do have a pair of these but very rarely use them.
Tweezers with a flat or round tip
These are great when you need to have a little bit bigger gripping surface and want to use a bit more force when handling a plastic part. Also good for handling larger waterslide decals. These are my second most used tweezers.
Self-locking tweezers
These come in various shapes and are useful when you need to hold a plastic part or a sub-assembly a little bit longer. Thanks to the self-locking mechanism, you do not have to keep applying pressure to the tweezers.
---
Sanding Tools
If you are at least a little bit serious about scale modeling, sanding tools are absolutely necessary. Even the top-of-the-line Tamiya model kits will require some sanding. Almost all plastic model kit parts have raised injection seam lines that have to be taken care of when they are in visible places of the model. Some of these can be scraped off with a hobby knife, while others have to be sanded down. Specifically, round parts tend to require sanding instead of scraping to preserve the original shape.
Apart from the injection seam lines, you will also encounter joint seam lines. As the name suggests, these seam lines will appear where you are joining two or more parts together. Some of these will form in areas where there are seam lines on the real-world subject as well so these do not need to be taken care of. Others should be filled and sanded down so that the seam lines disappear. Filling and sanding is perhaps the most hated part of the model building process but it's in my opinion crucial to making the model look great.
There are other areas that may require sanding as well – for example – the sprue gates or ejection pin marks. And sometimes the parts just don't fit at all and sanding them down to fit is all you can do.
Now let's have a look at the tools themselves.
If you are just starting out, you can use plain old sandpaper. Sandpaper is super-cheap and is available in various grits. You will certainly need to have different grits at your disposal.
While I do you sandpaper from time to time, I would recommend getting sanding sticks instead. These are sticks that have abrasive material on each side. Just like sandpaper, they are available in various grits and if possible I would just get a larger set of these. The backing of the abrasive layer can be either soft or hard. The soft spongy type is great for sanding curved surfaces. The hard type is more useful for areas where you need a flat surface.
AMMO by Mig Jimenez has recently come up with a really nice set of tapered sanding sticks that I really like to use and it costs only about 5 bucks (I am not sponsored by AMMO).
Some modelers also like to use needle files. These come in various shapes and sizes as well as different coarseness. For model-building purposes, you would definitely want something that is not too coarse as it is rarely needed to remove large amounts of plastic. Especially, when you are just starting out. I do not use needle files too often but the one I find most useful is the round one. This needle file can be used for enlarging round holes. Anyway, needle files are quite inexpensive so even if you don't end up using them much, it's not that big of a loss. Still, I do not find them absolutely necessary for beginners.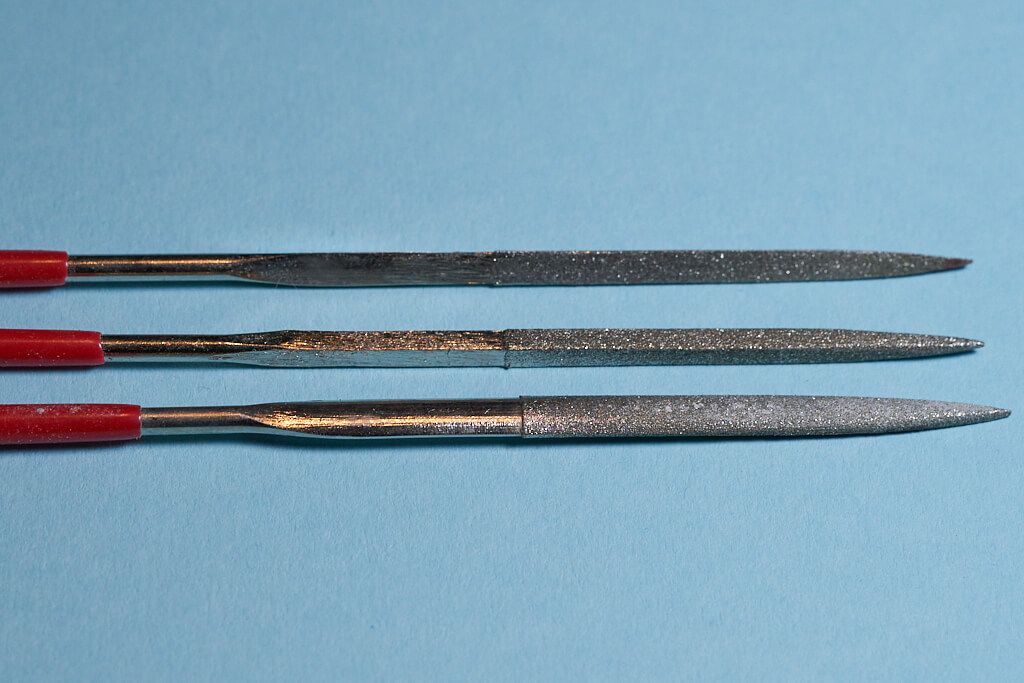 Another great sanding tool is a sanding sponge. These are great for sanding rounded surfaces. The soft sponge will conform to the curve of the surface. As a result, there will be no flat sanded spots where you don't want them like for example on a model car's body. Again, various grits are available. Model builders often use sanding sponges by Tamiya and these are really great, but there are also cheaper alternatives that work just as well and might be more readily available like for example the 3M sanding sponges.
I often use fine-grit sanding sponges to remove orange peel from clear coats or to smooth down a dusty layer of paint or primer.
---
Pin Vise Drill
Many model kits require you to drill out some holes. The reasons for this may vary. Most of the time the holes are required for optional parts or different variants of the model subject. While it might sound like that is something the manufacturer of the kit should do, it's actually better that they do not provide pre-cut holes for these parts. The reason is that it's much easier to drill out a hole than it is to fill and sand a hole.
The cheapest way when you are starting out is to buy an inexpensive pin vise drill with a couple of drill bits of various sizes. Most holes that you will need to drill out will range from 0.8 to 1.5mm with the 1mm drill bit being the most important to have.
Nowadays there are really nice drill bit sets designed for drilling PCBs and these work really well for plastic model kits. Moreover, they are rather cheap, especially if you buy them from Aliexpress.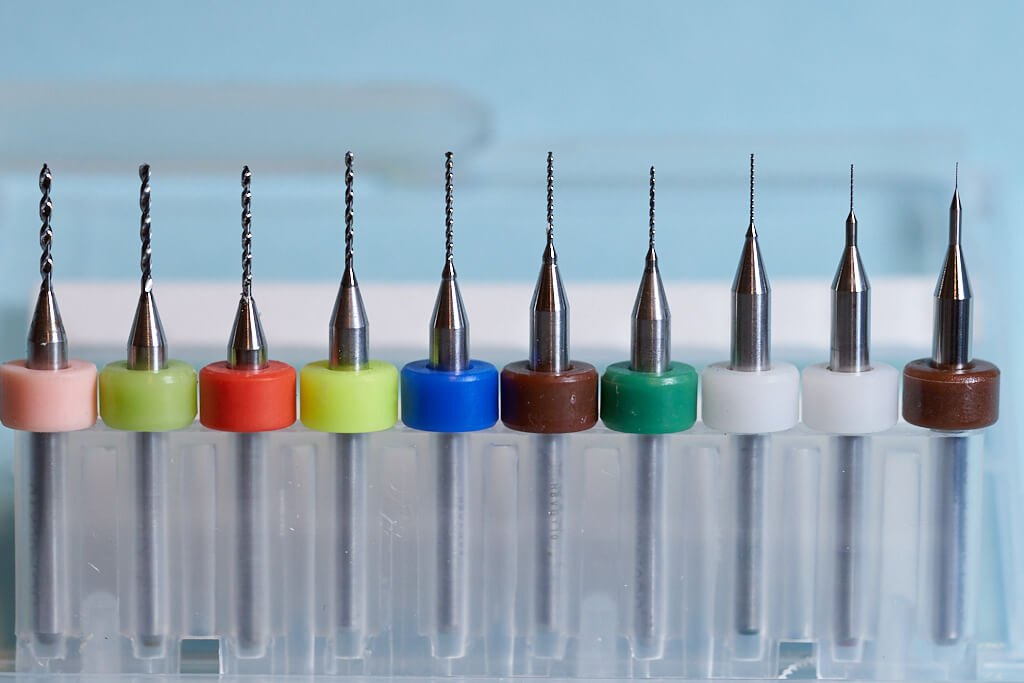 If you have a Dremel tool at your disposal, you can use it for model building as well. It's important to dial in the lowest possible RPM. Otherwise, the friction-induced heat created by the drill and other tools will melt the plastic.
When I was starting out I did not have a drill so I used a heated needle to make the necessary holes but this is something I would definitely not recommend as the holes rarely had the required diameter.
---
Painting Tools
I have left this topic for last because it's not really about building a model. It's more of a finishing stage. On the other hand, many models will require some parts to be painted during assembly. As an example, we can again mention aircraft cockpits. Once you build the model, there's no way to pain the cockpit anymore. Therefore, you have to paint the cockpit subassembly before you close the fuselage.
Most beginners will start with paintbrushes. And that is completely fine but it does require some time to master. You should definitely purchase a small round brush for painting fine details and a flat brush for painting larger areas. Soft synthetic brushes work best for painting models with acrylic paints. I would personally avoid expensive paintbrushes because acrylic paints will ruin them rather quickly.
An airbrush is miles ahead of paintbrushes in terms of the quality of the painted surface. However, a high-quality airbrush is expensive and you also have to add the cost of an air compressor to it. Therefore, I would not recommend getting an airbrush from the get-go because you never know whether your first model is not going to be the last one as well. Build a couple of cheap easy models first, see if you like the hobby, and then go ahead and buy a good quality airbrush.
---
Conclusion
So there you have it, this was my take on the most important tools needed by beginner plastic scale modelers. As it turns out, you can really start slow and cheap. There is no need to spend insane money when you are not yet sure whether you will like the hobby in the long run or not. Of course, if money is no issue, you can go ahead and go on a spending spree and buy the best tools you can possibly get. This would probably cost a couple of hundred dollars.
In the future, we will also look at some of the non-essential but nice to have tools as well.